Scout's Honor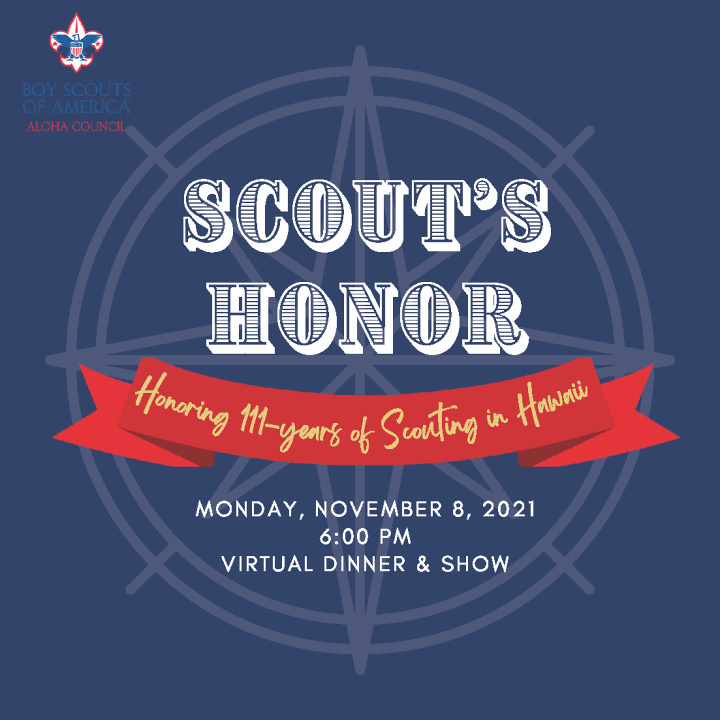 Date/Time:
Nov 8, 2021 6:00 pm
Location:
Virtual
Live Stream
Honolulu, HI 96817

SCOUT'S HONOR
Honoring 111-years of Scouting in Hawaii
Monday, November 8, 2021 at 6:00 PM
Virtual Program
Despite the challenges of the ongoing global pandemic, and restrictions to gathering in-person, the Aloha Council has decided to transform its annual in-person fundraising Distinguished Citizen Dinner to a digital event in 2021 that will allow families statewide to tune in to celebrate.
Register to attend SCOUT'S HONOR for a special presentation honoring 111-years of Scouting in Hawaii including the following highlights:
Here directly from Hawaii Scouts on how Scouting in Hawaii has helped them to be resilient
Announcement of the 2021 Legacy Leader Award cohort
Special message by Rocky Bleier, former Scout, Vietnam Veteran, and 4x Superbowl Champion and NFL player for Pittsburgh Steelers
Select Donate Now to view sponsorship packages, individual ticket information or to make a contribution. All proceeds from the virtual program will stay in Hawaii to underwrite the cost of Scouting, so that we can continue this tradition of developing Hawaii's youth for another 111-years.
For additional information, please contact Tricia Fetui, Director of Development at tricia.fetui@scouting.org or (808) 595-0853.